Posted October 21, 2022 in News in Uncategorized
Rutherford, NJ – October 13, 2022 – Blue Foundry Bank, a financial institution that offers a full service, crafted banking experience, announced the unveiling of its reimagined branch location at 280 Union Avenue, Rutherford, New Jersey. The new design, by DMR Architects, reflects the Bank's reinvention and creates an innovative environment for the movers and shakers of Rutherford that it serves.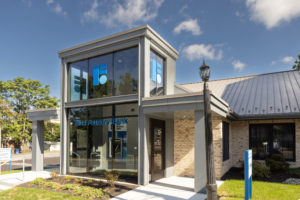 The fully remodeled space was designed with the customer experience top-of-mind. Crafted to present an open space where employees can better serve customers in an approachable setting. The branch design offers a variety of modern-industrial elements, delivering the essence of the brand.
Blue Foundry Bank looks forward to continuing to bring its dedication, service, and spirit to the consumers and small businesses in Rutherford. The Bank's Blue Is Here for You personal touch service, delivered by dedicated and knowledgeable Universal Bankers, provides individualized support to help its customers get the most out of their banking relationship.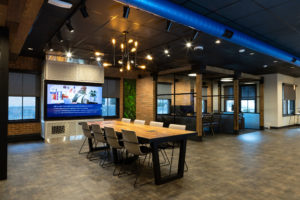 The location offers a Walk-Up ATM, as well as the convenience of a Drive-Up Video Interactive Teller Machine.
"Our newly renovated Union Avenue Branch will be a remarkable space for our team to continue providing unparalleled banking support to the residents and businesses of Rutherford," said James D. Nesci, President and CEO of Blue Foundry Bank. "Through our personalized services, we remain committed to serving the needs of the community in conjunction with our Park Avenue Branch location."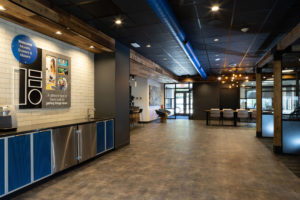 As part of our commitment to the community, Blue Foundry Charitable Foundation has recognized a range of Rutherford based non-profit organizations with Grants in 2022, including:
55 Kip Center
Betty and Buddy Ersalesi Scholarship Fund
Community Chest of Rutherford
Felician University
Junior Woman's Club of Rutherford
Meadowlands Museum
Rutherford Arts Council
Rutherford Community Pantry Inc.
Rutherford Cooperative Day Nursery
Rutherford Education Foundation
Rutherford Fire Engine Co. No. 2, Inc.
Rutherford First Aid Ambulance Corps.
Rutherford Little League
Rutherford Little League/Girls Softball
Rutherford Swim Association Inc.
The Friends of the Library of Rutherford
The Woman's Club of Rutherford
To apply for a Grant, visit bluefoundrycharitablefoundation.org/grant
Blue Foundry Bank invites you to visit the newly reimagined branch at 280 Union Avenue Rutherford, NJ. Stop by between October 13th and October 31st to meet with a Universal Banker and receive a complimentary gift.