Posted November 29, 2022 in News in Uncategorized
RUTHERFORD, NJ — November 29, 2022 — Blue Foundry Charitable Foundation announced donations, totaling $60,000, to multiple New Jersey-based organizations who fight food insecurity. These donations represent Blue Foundry's unyielding commitment to the local neighborhoods it serves, with a focus on its Health & Human Services giving pillar.
The donations come as part of the Blue Foundry Charitable Foundation's second year of participation in Giving Tuesday, a global movement unleashing the power of generosity.
"Providing community-minded support to those we serve is at the center of who we are as a company," said James D. Nesci, CEO and President of Blue Foundry Bank and Director of Blue Foundry Charitable Foundation. "We look forward to continuing these efforts to create a lasting impact in the fight against food insecurity."
The following organizations were supported with donations from Blue Foundry Charitable Foundation: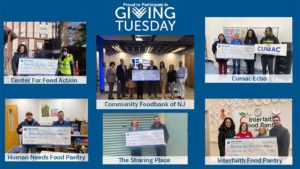 About Blue Foundry Charitable Foundation: The Blue Foundry Charitable Foundation iscommitted to building strong communities by partnering with non-profit organizations responsible for finding solutions to the challenges faced by Blue Foundry Bank customers and employees as well as the neighborhoods in the local communities served by Blue Foundry Bank. The Foundation's key giving pillars include Affordable Housing, Education, Health and Human Services and Youth Programs. To learn more about Blue Foundry Charitable Foundation visit BlueFoundryCharitableFoundation.org.
About Blue Foundry Bank: Blue Foundry Bancorp is the holding company for Blue Foundry Bank, a place where things are made, purpose is formed, and ideas are crafted. Headquartered in Rutherford NJ, with a presence in Bergen, Essex, Hudson, Morris, Passaic and Somerset counties, Blue Foundry Bank is a full-service, innovative bank serving the doers, movers, and shakers in our communities. We offer individuals and businesses alike the tailoredproducts and services they need to build their futures. With a rich history dating back more than 145 years, Blue Foundry Bank has a longstanding commitment to its customers and communities. To learn more about Blue Foundry Bank visit BlueFoundryBank.com or call (888) 931-BLUE. Member FDIC.
To learn more about Blue Foundry Bank visit BlueFoundryBank.com or call (201) 939-5000.